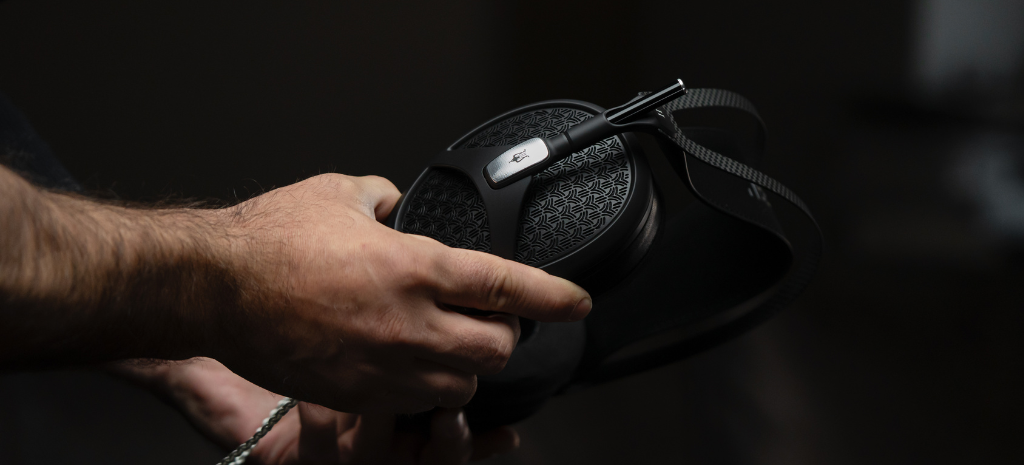 Building on the acclaim of the original Empyrean - already one of the most technologically advanced designs – the new Empyrean II emerges as a symphony of artistry, innovation and craftsmanship.
For the second-generation model, our specialists have further refined the exceptional Isodynamic Hybrid Array driver design from Rinaro Isodynamics, delivering a step-change performance.
Artistry meets impeccable comfort
Crafted with precision via CNC milling, Empyrean II's frame features a sleek black matte finish with silver accents, and a redesigned aluminium grille inspired by art deco artistry. With a nod to the past and a vision for the future, the new headphone is a testament to our passion for blending classic aesthetics with modern sophistication.
You will want to listen to the Empyrean II for hours. Following the same comfort standards as the entire Meze portfolio, these headphones are deliberately structured to minimise weight and pressure and instantly adapt to the shape of your head.
New Duo earpads for a tailored experience
Empyrean II also comes with two sets of earpads included, each designed for a different experience.
- DUO EARPADS -
Our most advanced earpads in the Empyrean series to date, the all-new Duo Earpads are bespoke to Empyrean II. Crafted from a precise blend of premium leather and Alcantara, they introduce a contemporary look and tone. With leather forming the base half and Alcantara covering the rest, these earpads deliver a harmonious tonal balance that resonates across all music genres.
- ANGLED ALCANTARA EARPADS -
For a classic audiophile experience, the Angled Alcantara Earpads excel at rendering intricate details and nuances in your recordings. The angled shape creates more space inside the earpad, which translates to an airier sound signature, with cleaner bass and improved midrange presence.
Enhanced sound signature
In terms of sound, we reached out to you, our community, eager to gather your feedback and understand your expectations. 
"When creating Empyrean II, our goal was to enhance the headphones' ability to reproduce fine details and achieve a more neutral sound signature, all the while preserving the original "easy to listen to" character. With this in mind, our engineers have masterfully harnessed the driver's power to reveal new possibilities in terms of responsiveness and accuracy and even make the driver more reliable in challenging acoustic environments." - Mircea Fanatan, Managing Director